Meet the SunKiss Villas Family!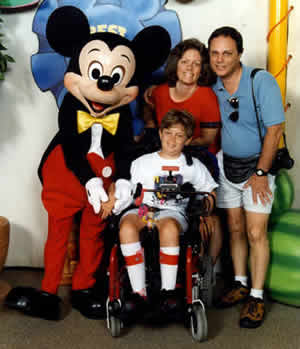 Here we are with the "Big Cheese" himself – Mickey Mouse. Then there is Matthew, Dora and Mark – the SunKiss Villas family.
For those of you who are wondering, Matthew has CP (cerebral palsy) and uses a power wheelchair for mobility. He is able to access most of our home (either one). He loves Mickey and all the gang at Disney. He is absolutely in-love with the Dolphins at Sea World. Matthew is learning how to help out at SunKiss Villas.
We had a great time on our SunKiss Villas vacations in Florida and love our vacation homes. Over the years SunKiss Villas has grown and now we manage over 40 homes in the Disney World area. We are happy to be able to offer SunKiss Villas to other families. They are always telling us they had a great time and thank us for such a great place to stay.
There is a lot more to us and our story but I'm sure you don't want all those details. The bottom line is that we are just a normal family. If you really want to know more about us you can read some of " The Rest Of The Story " here.
What makes SunKiss Villas homes special? We, as well as our owners are continually investing in them (making improvements) to make them nicer for our guests so they won't want to go anywhere else when they come back to Disney. Here's an example: In the first 2 years of owning our first vacation home we purchased a pool heater (besides the solar we already had), a pool blanket on professional reel, installed a lawn sprinkler system, purchased new patio furniture, installed ceiling fans in all rooms, purchased VCR's and a Nintendo system, redecorated the bedrooms, purchased a few more small appliances for the kitchen, purchased more sheets and towels, and repainted the entire exterior. Don't think that the home was in bad condition because it wasn't. All of the above improvements were optional. I'm sure I've forgotten a few things. SunKiss Villas has a high standard and we know our guests appreciate a nice place to call home.
We are also concerned about everyday management, upkeep, cleaning, etc. That's why we are very particular about our management company. I am happy to say that we have teamed up with a great company to keep our homes in great shape.
Don't forget your Discount Attraction Tickets!
Here's a poem we hope you cherish as much as we do.
"Heaven's Very Special Child"
A meeting was held quite far from earth.
It's time again for another birth.
Said the angels to the Lord above,
this special child will need much love.
His progress may seem very slow,
accomplishments he may not show.
And he'll require extra care
from the folks he meets way down there.
He may not run, or laugh, or play;
his thought may seem quite far away.
In many ways he won't adapt;
and he'll be known as handicapped.
So let's be careful where he's sent,
we want his life to be content.
Please Lord, find parents who,
will do this special job for you.
They will not realize right away,
the leading role they're asked to play.
But with this child sent from above
comes stronger faith and richer love.
And soon they'll know the privilege given
in caring for this gift from heaven.
Their precious charge so meek and mild
is heaven's very special child.
Author:
Edna Massimilla