Orlando Vacation Homes – Near Disney World and Universal Studios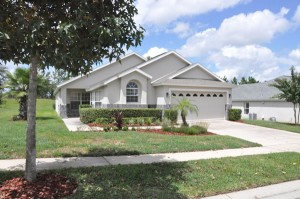 If you're are planning a vacation in or around Orlando and are considering Orlando Vacation homes as an alternative to staying in a hotel then you've come to the right place. For privacy and comfort it's hard to beat a beautiful Orlando Vacation home. All of the Orlando vacation homes SunKiss Villas has to offer are spacious and comfortable. Get complete details for all of our Orlando Vacation homes on our web site complete with pictures, description, list of amenities, location map, availability calendar and more. Scroll down this page to view all of our homes. At the bottom of this page is a location map where you can view the communities our homes are located in and more.
It's easy to make a reservation for Orlando Vacation Homes through SunKiss Villas. Simply input your arrival and departure dates into the "Reserve Now" search box and click "Search". You don't need to make any other selections if you don't want to. All available homes will come up at the top of the list. When you see a home you like click on the picture to get more information on that home. When you find the home you want click the "Book Now" button and input your information in the Secure Online Reservation Form. That's it! You're done! If you prefer to make your reservation by phone feel free to call 1-407-479-8580 or Toll-Free 1-888-777-9591.
Orlando Vacation homes – Economical!
Do The Math – calculate the cost per person for a hotel room verses one of our private Orlando vacation homes. Most people will find it is cheaper per person to stay in one of our beautiful homes. Plus all the extras you get make it a true bargain. Ten people can stay for a week in one of our homes for around $1000, while a week stay in a hotel room for a large family who needs two rooms will cost more than $1000. And if you want to save even more, all our homes have fully equipped kitchens so you can make some of your own meals which is a real savings over eating every meal at a restaurant or fast food place.
Orlando Vacation homes – Other Advantages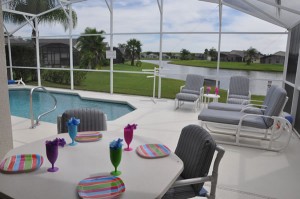 I like sitting on the patio in the screened pool enclosure at night with the exterior lights out and looking up at the stars. I don't know of a better way to relax after a long day of play. It's even better with the wife by my side and a cool drink in my hand and the kids either already asleep or playing a video game in their bedroom. The next day I'm refreshed and ready to go again. That's hard to do in a hotel room with the family and kids right there with you.
Reserve one of our Orlando vacation homes now. Either do it securely online at: www.sunkissvillas.com or give us a call at: 1-407-479-8580 or Toll-Free 1-888-777-9591. All we need is your contact information, arrival and departure dates, the home you prefer and your credit card information. If you're having trouble choosing just give us a call and we'll be happy to help you make your selection.
Don't forget to get your Discount Attraction Tickets!