Snowbirds And Extended Stays
"Snowbird" – definition: to "run away", to "get out of Dodge", to "escape to warmer climates", to "fly south for the winter", LOL. Ok, enough with the humor. There is nothing wrong with going south to escape the cold and snow of the north. We love having snowbirds stay in our homes. We also understand that typical snowbirds have to watch their budgets. If you're looking for a nice vacation home near Disney World, Florida for at least 30 nights during the winter months of January and February then you've come to the right place.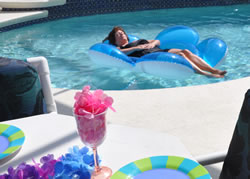 These lovely Disney Vacation Homes are convenient to all the Orlando attractions, shopping, golf and much more. Our lovely Vacation Homes are the perfect place for snowbirds to fly to escape the cold winter months of the north. Bask in the sun while your friends back north are shivering. Maybe you'll call them to hear the envy in their voice.
The Orlando snowbird homes below have special discounts for "Snowbird" stays of 30 nights or more (January – mid March). These rates are great rates, even for extended stay. These rates are discounted even more than the monthly rate so please understand that there isn't much room for negotiation.
Please click the picture below to view the Snowbird page for each home to get the Snowbird discount code and view the price for your desired length of stay. Extended stays are harder to find so reserve early to ensure you get the vacation home and dates you want. Don't hesitate to call us if you have questions. We are happy to help.
Don't Forget Your Discount Attraction Tickets!
Durango Palms - Vacation Home Disney
Davenport, FL, United States
Vacation Home Disney with 4 Bedrooms, 3 baths, Private Pool, Broadband Internet, Gas BBQ, Playsation 2, Disney 15 minutes.
As you enter this freshly painted and newly carpeted 4 bedroom, 3 bath villa, ALL of your worries will be left behind. Located only 8 miles from Disney, this beautifully decorated villa has all the comforts of a home away from home....
More Details >>
Sleeps:9
|
Bedrooms: 4
|
Pets Allowed: no
View Property Details