Rock the Universe at Universal Studios Florida – September 6-7, 2013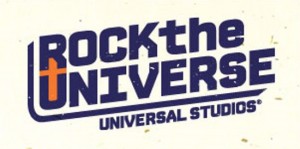 Florida's Biggest Christian Music Festival," Rock the Universe will take place at Universal Studios September 6-7, 2013. Energize your Christian walk and enjoy some of the hottest names in the Christian music scene for an unforgettable weekend of fun,  fellowship and Faith at Universal Studios Florida, which is located off I-4, Exit 75. For more information about Rock the Universe, visit www.universalorlando.com.
Sunday morning worship
Celebrate a weekend of music, fellowship, and ministry at this non-denominational worship service located at the Fear Factor Live stage inside Universal Studios Florida. Services will be held Sunday, September 8, at 8:30am, 9:45am & 10:45am.
Admission is FREE with any Rock the Universe ticket, but due to this event's high popularity, reservations are required.
Two nights, 17 bands, one powerful experience — on September 6 and 7, 2013, the most exciting bands in Christian rock will come together for Rock The Universe 2013 at Universal Orlando, Florida's biggest Christian music festival! Check them out here:
Rock The Universe Bands.
The Band Lineup
Friday, September 6, 4:00pm – 1:00am    Switchfoot
    Chris Tomlin
    Crowder
    Tenth Avenue North
    Family Force 5
    Colton Dixon
    Crave
Saturday, September 7, 4:00pm – 1:00am
    Casting Crowns
    Jesus Culture
    Lecrae
    Relient K
    Red
    Everfound
    Kyle Sherman
There's also plenty of praise to go with this party, including a moving candlelighting service on Saturday led by Casting Crowns and featuring some of the bands from Saturday night, performing on stage TOGETHER!