Epcot Flower and Garden Festival – March 5 – May 18, 2014
The Epcot Flower and Garden Festival is a special 75-day spring event filled with Disney character topiaries, colorful flowers, gardens, live music, special presentations and garden marketplaces featuring festival food and treats.
Disney gardeners paint the landscape with rainbows of blooms while Epcot chefs tempt guests with tastes to delight all pallets during the 21st Epcot International Flower & Garden Festival March 5 – May 18, 2014.
Epcot is decked out with Goofy, Donald Duck and Daisy Duck, Mickey Mouse and dozens of other Disney characters in larger-than-life topiaries that are scattered through the park.  Go on safari to find all the the topiaries and check them off your list as you go.  Hunt for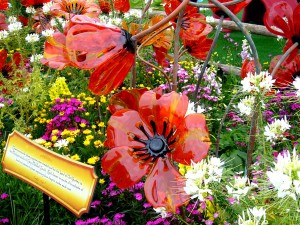 hundreds of different kinds of butterflies in Tinker Bell's Butterfly House while getting inspired on many ways to make your own butterfly garden that will attract butterflies to your own back yard.
Taste your way around World Showcase Lagoon as you sample tasty sweets or savory eats at a dozen different food and beverage places throughout the park.  Enjoy your samplings as you watch the kids play in the themed children's play areas.  And the fun doesn't stop when the sun sets because most of the gardens will be illuminated at night.
Be sure to check out the daily interactive gardening seminars will be held at the Festival Center for every outdoor do-it-yourselfer.  HGTV celebrities will thrill you with home, garden and design ideas during weekend seminars.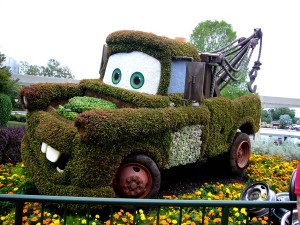 The Disney-Pixar "Cars" garden and playground was a smash hit last year and will be part of the many attractions again this year.  You'll meet Mator, Lightning McQueen and characters from "Cars" at this very special place which is truly amazing to see.
The Flower Power Concert Series at America Gardens Theater will feature fan-favorite bands like The Guess Who ("American Woman"), Chubby Checker & the Wildcats, The Village People, Paul Revere & The Raiders and Herman's Hermits starring Peter Noone. Flower Power Concerts take place weekend nights during the Flower and Garden Festival on the America Gardens Theater stage in Epcot's World Showcase. The concerts are included in the price of admission to Epcot. Below are some of the tentative concert bands. (Be sure to check back for updates or changes.)
March 7 – 9: The Guess Who
March 14 – 16: Gary Lewis & The Playboys
March 21 – 23: The Orchestra starring former members of ELO
March 28 – 30: The Lovin' Spoonful
April 18 – 20: The Grass Roots
April 25 – 27: Herman's Hermits Starring Peter Noone
May 2 – 4: Starship starring Mickey Thomas
May 9 – 11: Chubby Check and the Wildcats
The Epcot International Flower and Garden Festival in living color is something to experience and pictures don't do it justice.  More than 100 topiaries, 220 floating mini-gardens, dozens of flower towers and sweeping beds of multi-colored blooms will add floral splendor to the park landscape.
Epcot admission is required. Most Epcot International Flower & Garden Festival events, including all gardening programs and exhibits, are included with admission to Epcot.  Check back to this page for updates as they become available.
Be sure to reserve one of our beautiful vacation homes near Disney so you don't miss this event.  Use the search box to the right to find a vacation home for your family.