SunKiss Villas Receives Best Of Davenport Award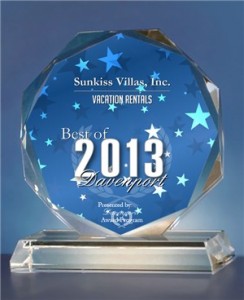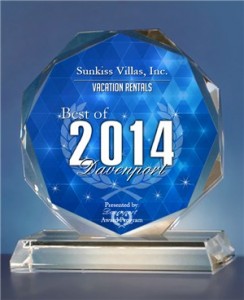 The Davenport Award Program has chosen Sunkiss Villas, Inc. for the Best Of Davenport Awards in the Vacation Rentals classification in 2014. This is our second year to receive this award.
"Each year, across the greater Davenport area, the Davenport Award Program chooses only the best local businesses. We focus on companies that have demonstrated their ability to use various marketing methods to grow their business in spite of difficult economic times. The companies chosen exemplify the best of small business; often leading through customer service and community involvement." – Davenport Award Program.
"For the second year in a row SunKiss Villas is very pleased to receive the Best Of Davenport Award for Vacation Rentals in 2014. It is especially nice to receive this type of recognition for just doing what we always do – providing great service to both vacation home owners and vacation guests. We have always been committed to giving our guests a wonderful experience from start to finish. Everyone deserves to have a fantastic vacation, wonderful memories and a feeling that will make them want to come back again and again. We will continue to provide the best service possible and as always look for ways to make our guests experience even better." – Mark Douglas, CEO of SunKiss Villas, Inc.
We want our guests to know they are very important to us and we appreciate each one of them. We also appreciate the referrals they send to us and the compliments they bestow on us.
We also appreciate our owners continued support. We enjoy working with our owners and will continue to care for the vacation homes entrusted to us. We will also continue to provide professional marketing services to keep your calendar as full as possible. Thank you for your loyalty.